Tripawds is a user-supported community. Thank you for your support!
Today has been very much the same as yesterday. Very little change. JJ has been up and about – out of his crate for the most part of the day. Relaxing and enjoying the sunshine. He hasn't moved a lot but he has moved a few feet between his crate, the sunshine and his litter box.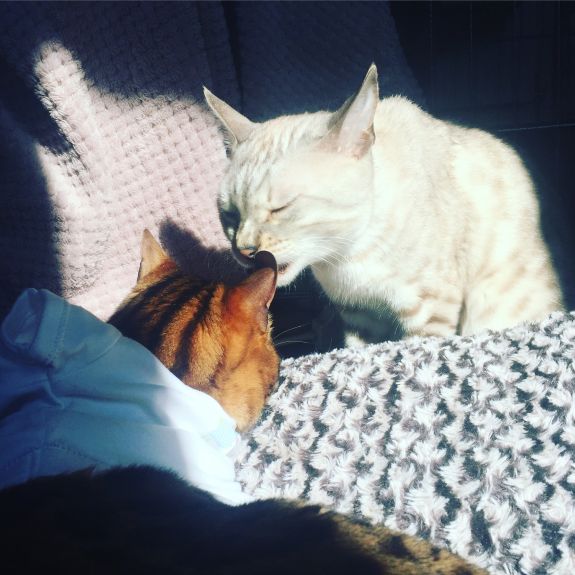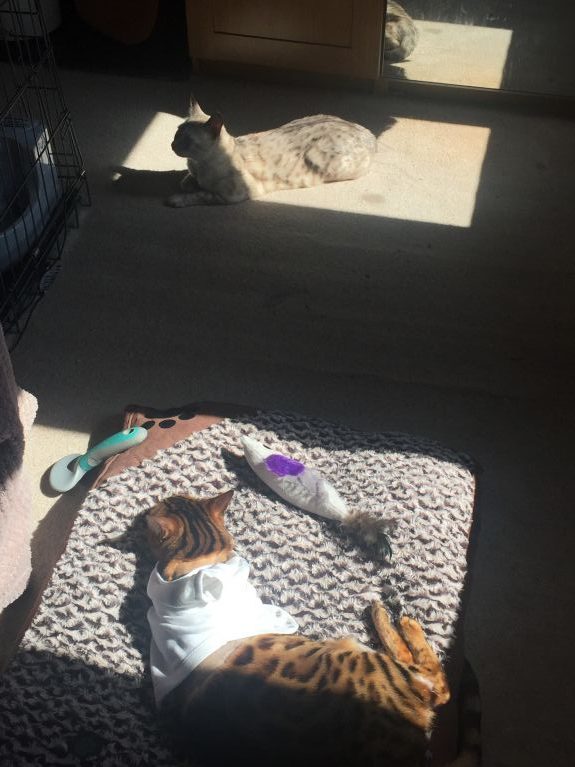 The major worry is- his strong pain killer buprenorphine has started to run out. We decided to cut the dosage in half starting last night to make it last a bit longer and also so he doesn't all of a sudden go without. This has meant JJ has been much more alert than he was but also has cried quite a few times in pain. At one point he had got himself laid in such a way that he was laid on his scare. He couldn't get himself back up and was crying. This was definitely pain related. He is clearly still in pain as the reduced dosage has resulted in JJ being much more grumpy and he has growled For no apparent reason too. He will get his final, but half dosage of the meds tomorrow.
I am a little worried that this will leave JJ in pain as the metacam is also due to run out (not that seems to help his pain anyway). Has anyone used buprenorphine for longer than 5 days? If so how long did you use this? Was the vet happy to continue with additional pain meds or is this likely to cause long term issues if used for longer than this amount of time?
Im going to see how he is by tomorrow afternoon and then speak to my vet. I just worry as my vet was the one who told me that JJ was not in pain…. I don't believe this for one second so I'm ready to fight his corner but want to know if having this drug for longer than 5 days is acceptable and won't have a long term impact on him. If it is, is there anything not as strong other than metacam they can give? Advice here would be greatly appreciated. If I can go armed with facts then hopefully I can come away with pain relief for him.