Tripawds is a user-supported community. Thank you for your support!
So after the ups and downs very early this morning today has been another rollercoaster. I'm in bed now feeling very disheartened. Today was a GOOD day … I think but overall I just feel really low about it, probably because of the last couple of hours. I thought maybe reflecting back might help me so here I am.
Today started ok, JJ was sleeping in his crate from about 5am until about 9:30. He ate his breakfast and had his meds and used the litter tray…. new development my little boy has worked out how to cover his litter! Way to go JJ! I was amazed as he didn't seem to struggle at all. Following this though he went back to sleep… in his litter! This really bothers me as I can't lift or move him out of there because it would set off an attack. I just try to make sure his stitches are covered and not touching it.
My daughter was back from her grans today so she was super pleased to see JJ. I decided that today I'd let him out of the crate if he wanted, still keeping him confined to the bedroom which is safe. I left the crate open and JJ came out walked about 8-10 hops to his barrel where he has a little hidey hole. He didn't move for a few hours.
He tried to get out of there and for some reason (don't know what if anything set it off) he flipped out. So gave up trying and went back to sleep looking very sorry for himself. He later when I left the room just to nip to the bathroom.. moved himself to his pillow where he remained for the rest of the day.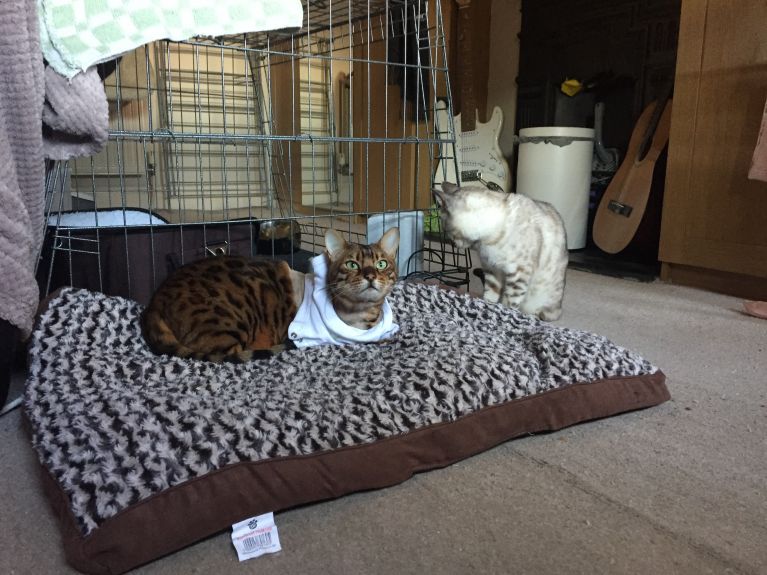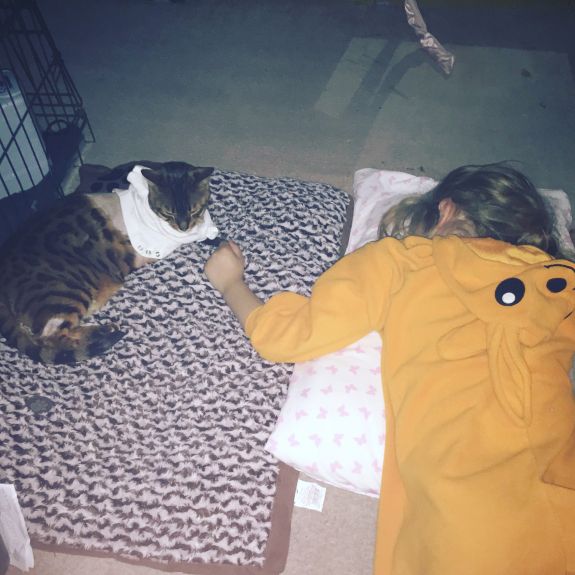 The final up… JJ did his first intended poo! Woohoo! Enough said.
Following this though he went to sleep in his litter tray. It was terrible timing as his meds were due. So he needed meds and was struggling to get out of the litter tray. So I gave him the meds whilst he sat in there. He had another episode as he tried to manoeuvre out but this time it wasn't as violent but he was clearly getting very angry. It was hard but I stepped back because there was nothing I could do. I can't pick him up as it sets him off so I just had to wait for him to pluck up the courage. Eventually he did, he hopped out with no issue and went back to his crate.
He then decided it was bath time again. This part of his day stresses me out as I have to watch and make sure he doesn't lick or chew his stitches. He was having a good try. He has the baby vest on but was trying his hardest to get around it. I took this picture because I was amazed how he was getting into this position! He is like a contortionist!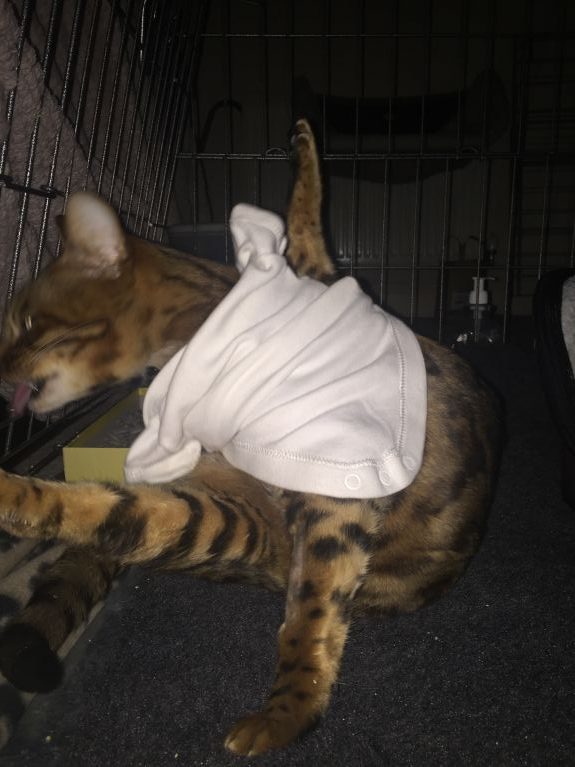 In the last 30 mins or so there have been multiple growls from him, I think it's frustration. I'm sat away from him, he can't see me, so I know he's not mad with anyone but himself or the pain. This is heartbreaking. So this is why I feel so low. He seems so unhappy.
Further update on the vets. I called the other vet today (the hospital who did the surgery and who have witnessed his episodes). After having to speak to the receptionist who attempted to give me useless advice as she didn't have a clue, I finally managed to get her to put me through to a vet. He was very nice but I didn't manage to get him to agree to gabapentin. He said he would need to go and consult with his colleagues as he was unsure if this would be advisable. I told him I'd researched it on the net but he kinda dismissed me. Like "this crazy cat woman has been googling and thinks she knows better than me). Don't get me wrong he was very encouraging and said I shouldn't be worried as long as he is doing everything else and these things aren't prolonged. He advised to just keep an eye on him over the weekend and to bring him in on Monday if he isn't improving or sooner if things escalate. He said as he saw my vet yesterday and nothing has changed since i'd just end up leaving with a – he's fine outcome. My own vet doesn't think phantom limb is possible so soon and says he isn't in pain and that it's the meds making him crazy. So now I feel stuck. I don't want to stop the pain meds, I'm too worried it will just make things worse.
I will certainly take him back on Monday – I hate doing it as the hospital is a long journey away so it adds additional stress to JJ which I don't want. I'm also panicking as I can't have anymore time off work with him so next week (don't worry he won't be left alone – my partner will be here). But it will be hard to get him to the vets during the day as my partner can't do long journeys due to his back injury and I don't think the specialists work evenings it's the vets who don't know about this kind of thing available. I can see I'm going to have to fight for this. I don't want to go to yet another vet as I just don't feel it's the right thing to do. I think getting an appointment with the specialists who did his operation is the best course of action. This will be way more expensive, I know this should not be a factor he needs the best care but I'm really struggling after all the expense so far. Thank god for credit cards. It's just a further worry I don't need right now.
In all of this I'm mostly worried about the impact it could be having on JJ and his future temperament. What if I end up losing my lovely sweet, gentle kind boy to a grumpy, growling shell of his former self.
So now…. I'm taking deep breaths, telling myself he will get through this and that he will get better. Trying to focus on all the good things he did today.